Getting too many newsletters? Not enough? You can set your preferences in your newsletter notification settings.
App users, please note this can only be done through a computer.
Go to http://www.deezer.com/. No worries if you've forgotten your password
Head to My Music and click on the Settings icon  
Tap Account Settings
Tap the Alerts & sharing tab
Head to the bottom of the page
Use the checkboxes to let us know what you want to receive
There are so many options, which ones do you change?
If you don't want to receive any emails or notifications from Deezer, uncheck all the boxes.
(Just so you know, this can take a week to come into effect.)
Otherwise you can choose exactly what you want to receive. We've broken it up into two sections so you can tailor your choices more easily:
"I would like to receive a notification when" 
The first section is about your Deezer profile, this is all about your activity and the users you can connect with in Deezer, this includes things such as if another Deezer user sends you a message.
Check the box if you would like to receive a notification from the option, by email or by phone.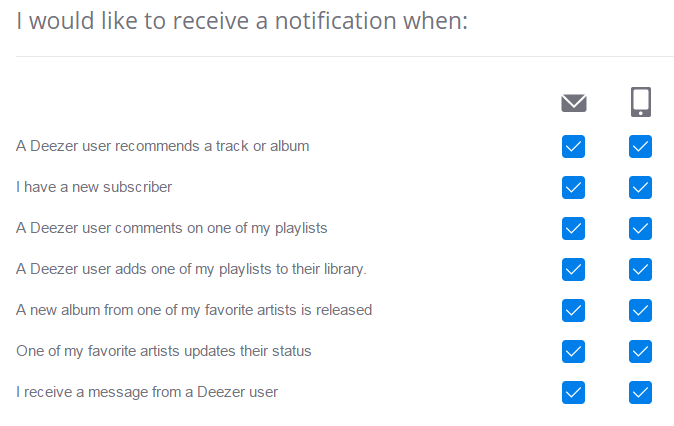 "Send Me"
The second section controls the emails that Deezer sends you about things you might be interested in.
Check the boxes for the emails you want to receive.