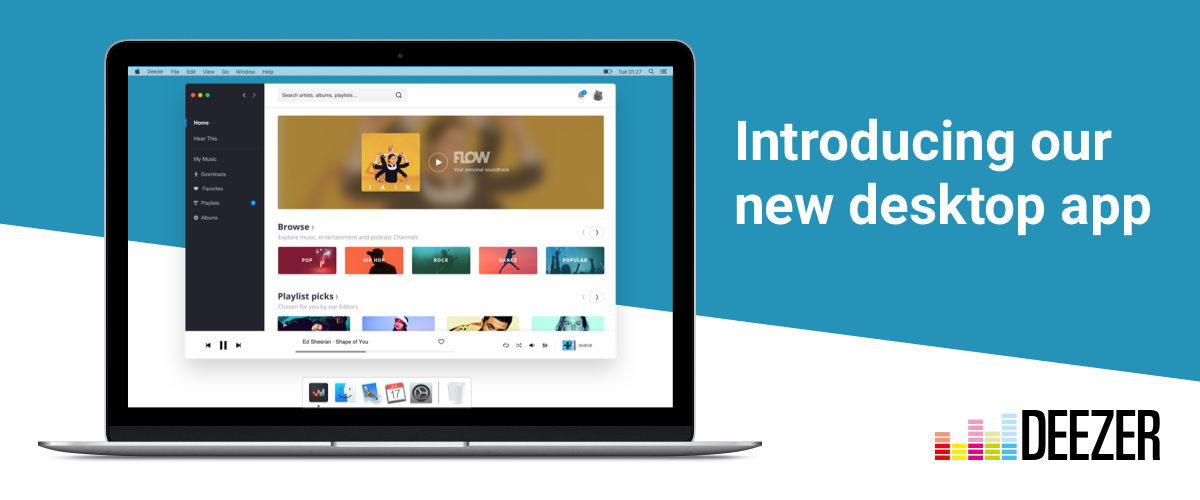 Our app brings Deezer direct to your desktop, where you can enjoy all of your music and usual features, plus HotKeys and an improved look and feel. You'll first need to download the application on your desktop by visiting our desktop app page.
Once you've downloaded and installed the app, you'll have access to all these Deezer features, direct on your desktop:
Flow
Channels & Mixes
Playlists
Offline Mode - coming soon
Exclusive video Content with artist performances & interviews
FLAC audio quality support (Deezer HiFi subscribers only)
Frequently Asked Questions
I use Deezer for free, can I use the desktop app?
The Deezer desktop app is only available to subscribers, including Deezer Premium, Deezer Family and Deezer HiFi. You can still listen to Deezer via our website deezer.com.
What operating systems are supported by the new app?
The new Deezer application on desktop is compatible on the following systems:
Mac (OS X 10.9 and later)
Windows 7, 8, 8.1
I've downloaded the app, but I'm not able to playback using FLAC?
FLAC audio quality is only available to Deezer HiFi subscribers, follow these steps to check your subscription status.
If you're a Deezer HiFi subscriber you can switch to FLAC streaming mode in the audio settings.
I'm a Deezer HiFi subscriber, how do I switch to streaming using FLAC?
On the player, click on Audioto open the audio settings
Select HiFi 1 411kb/s
If you're not currently subscribed to Deezer HiFi, you'll see a prompt to upgrade.
Why can't I download music to my desktop app?
This phase of the app is currently in beta, but we're already working on the next version that includes downloading to your app.