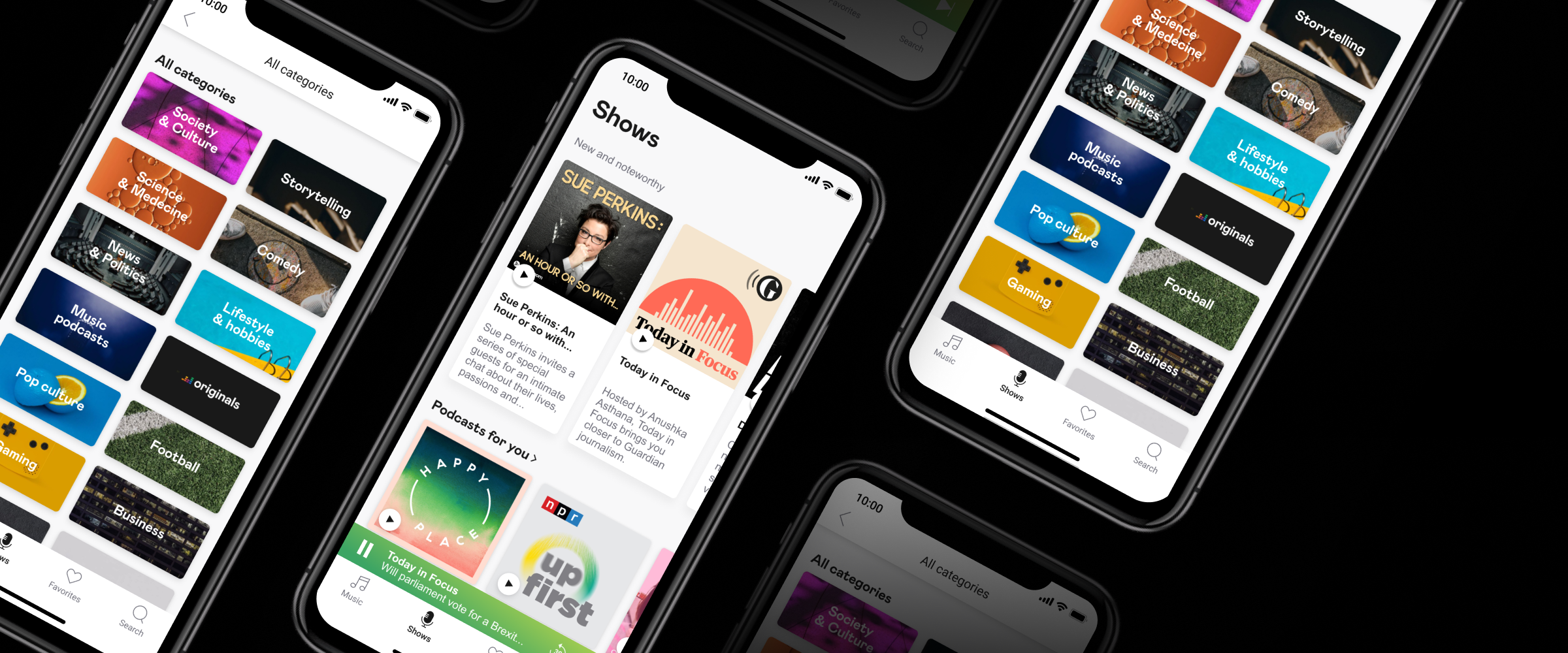 On Deezer's dedicated Podcasts

tab, you'll find a wide selection of podcasts, including locally produced shows, specialist subjects and international hits. Podcasts are available worldwide.
How to find podcasts
You can find a podcast using the Search

tab and typing the name of the show or you can browse podcasts in the dedicated tab:
Go to Podcasts tab
From here, you can browse popular podcasts, recommended and international shows we think you'll love
Select a show and add it to your Favorites with the heart icon, so you can easily find it again
How can I organize Deezer podcasts?
You can organize any podcast you're listening to using the arrows

to sort by:
Newest to oldest
Oldest to newest
Unheard
Duration
Browse Deezer podcast by duration
Another way to discover podcasts is to filter by duration. This option is perfect, if you're on the go and want to listen to shows with a duration of 10 minutes or less or maybe, you want to listen to longer shows of 20 or 30 minutes. Alternatively, you can filter on shows of 40 minutes for in-depth exploration of your favorite topics.
Simply scroll down to Podcasts by duration and select:
10 minutes or less
20 minutes approximately
30 minutes approximately
40 minutes or less
Collections and categories
On the Deezer Podcasts tab, you'll find new recommendations from our editors with local and international content that is grouped in collections by genres or themes. You can browse the collection and categories by following these steps:
Go to Podcasts
From here you can scroll down to Collections> or All categories>
Choose a genre or a theme to filter content
Now, select a show and add it to your Favorites with the heart icon, so you're updated with new releases
More channels
Popular podcasts on Deezer
Here are a few of our most popular podcast shows to help you get started:
How to listen to the latest episode of a podcast on Deezer
To view all your favorite podcasts and hear the latest episode of your favorite podcasts follow these steps:
Go to Favorites
Select Podcasts
Select the Latest Episodes of your favorite podcasts and then choose the episode you would like to listen to
How to access your unfinished podcast episodes
To view and finish all the podcast episodes you started, but haven't completed, follow these steps:
Go to

Favorites

Select

Podcasts

All your

In Progress

episodes will appear at the top of your screen from the last 15 days

Select your podcast episode to finish listening
Note: This feature is only available for iOS devices
Downloading podcasts episodes on Deezer
Downloading episodes is a great way to enjoy your favorite podcasts when you travel. Downloaded episodes of podcasts are only available to paid subscribers in Austria, Brazil, Colombia, France, Germany, Ireland, the Netherlands, Switzerland and the United Kingdom.
Note: This feature is not available in the United States
Go to Favorites
Select Podcasts
Choose the podcasts series to see the episode list
Select the three dots menu icon (this will appear horizontally on iOS devices) next to the episode you wish to download
Select Download to start download
The circle will change to green when the download is complete
Note: You can download up to 2000 episodes, provided you have enough space on your mobile device
Removing downloaded podcasts
To remove downloaded podcasts, go to your Favorites, then select Podcasts and open your Downloaded Episodes playlist. Now, select the three dots menu

icon (this will appear horizontally

on iOS devices) next to the episode you wish to remove, then select the Remove from downloads episode menu option.
New episode notifications
Depending on your country, you'll also find the feature New episode notifications, which you can turn on (or off) to notify you when new episodes are available.
Note: If you turn off this notification, you will no longer see the new episodes listed
"Why can't I find a podcast on Deezer?"
If you can't find an individual podcast, it's possible the show, station or author's team have not added it to Deezer. Request them to add it here.
Helpful links
Deezer Audiobooks, podcasts & radio