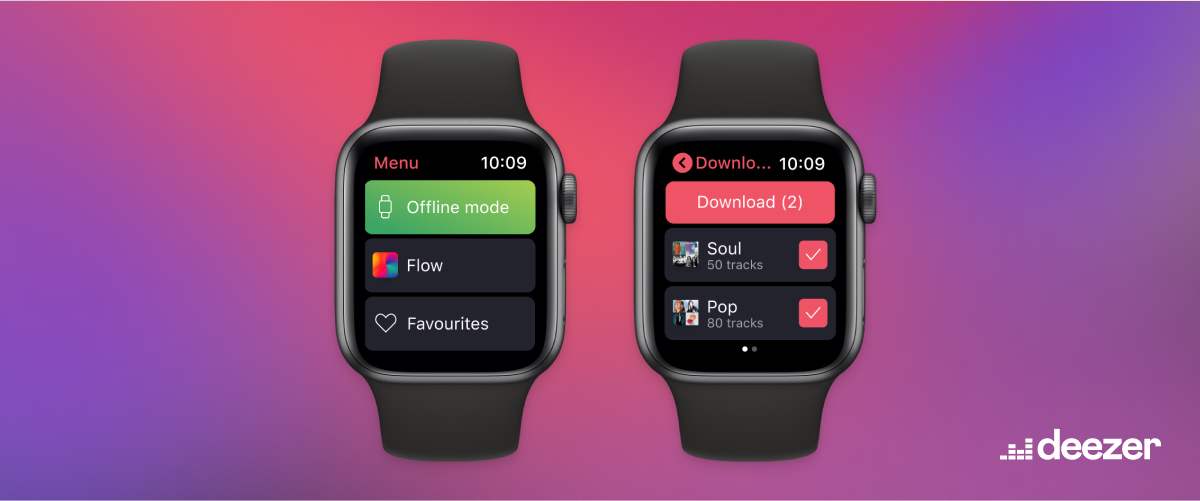 Control your iOS device and the Deezer app with your Apple Watch and listen to your favorite tracks, editorial playlists, and personal playlists. With Share options, Flow, and improved speed, the Deezer app is easier than ever to navigate on your Apple Watch.
Note: Deezer on Apple Watch is an extension app and requires pairing with an iPhone via Bluetooth
Requirements
You can use Deezer on Apple Watch with Deezer Free (remote mode, download feature will be blocked) or one of our subscription plans, such as Deezer Premium
The latest version of Deezer app for iOS
Bluetooth enabled and iPhone paired to Apple Watch
Download Deezer music to your Apple Watch
You can download all your playlist content to your Apple Watch. This includes your Favorite Tracks playlist, editorial playlists, and any personal playlists you've created. To download music to your Apple Watch, you'll need to use your mobile network or the same network as your watch.
If your phone is nearby, your phone's network will automatically handle the download and transfer the data to your watch via Bluetooth or WiFi.
Without the phone (not nearby, in airplane mode, turned off), the watch will be able to handle the download if the watch is directly connected to the WiFi, or if the watch has some cellular connexion.
Several GB of data is downloadable, depending on the space available and your watch model
Compatible devices
Apple Watch 3 or later can be enjoyed with iOS 6.0 or later. Compatible with iPhone, iPad, and iPod touch.
Available countries
Deezer is currently available in 182+ countries.
Languages supported
English, Arabic, Bulgarian, Croatian, Czech, Danish, Dutch, Finnish, French, German, Hebrew, Hungarian, Italian, Japanese, Malay, Norwegian Bokmål, Polish, Portuguese, Romanian, Russian, Slovak, Spanish, Swedish, Thai, Turkish, Ukrainian
Read more about changing your language settings here.
Getting started
Deezer on Apple Watch is an extension app and requires pairing with a compatible iPhone.
Set up your Apple Watch and pair it with your iPhone
Download the latest version of the Deezer app for iOS
On your iPhone, open the Apple Watch app and tap the My Watch tab. Apps that you can install appear in the Available Apps section
Scroll to the Deezer app and tap Install
Make sure the slider is green on Show App on Apple Watch
How to use Deezer on Apple Watch
Deezer on Apple Watch allows you to control the music on your iPhone with your watch. To navigate and select options, you can use the Apple Watch's touchscreen or its Digital Crown. From the app homepage, you can access the following:
Offline mode: Access your Downloaded music, including Favorite Tracks, Playlists, and editorial playlists
Flow: This tool plays your favorites and recommends songs we think you'll love based on the songs you've liked
Favorites: Add tracks to your library with the Add/Add to Favorites button

Shuffle
Recently Played
Favorite Tracks
Playlists
Albums
Artists
Podcasts
Browsing Deezer music on Apple Watch
When browsing playlists, they are ordered with the most recently updated playlists at the top. Songs in your playlists are sorted according to how you have sorted them on Deezer.com – for instance, in manual order, A-Z, or by recently added songs.
To begin music playback, choose a playlist or album and tap on a song to begin.
You can adjust the volume level using the Apple Watch's Digital Crown.
Pause/Play the track, and select the arrow icons to skip to the next track or previous track
You can also press the Dislike

button to skip tracks and help Flow understand your music taste better.
Shuffle songs
To shuffle all the songs in your music library, go to Favorites

and tap the Shuffle button at the very top of the page.
You can shuffle just the songs in a playlist, too. First select the playlist you desire, swipe down and select the Shuffle icon

to begin playing the playlist in shuffle mode.
Note: Force Touch can be used for Repeat and Shuffle features.
Can downloaded content be listened to offline or without my iPhone nearby?
Yes, downloaded content can be listened to without any network connection, and without your phone.
Does Deezer Family work with Deezer on Apple Watch?
Deezer Family is accessible on Apple Watch. Every member of your family can own an Apple Watch and connect their iPhone.
You cannot switch Deezer Family accounts using Apple Watch. You'll need to do so from your iPhone.
Note: you can pair several watches to one iPhone. If you have multiple watches, be sure you've found and paired the correct watch, when you are setting up the device(s)