Revamped and revitalized: the new Deezer app for Apple Watch is ready to help you control your personal soundtrack whether you're on your way to work or working out.
New features include a redesigned home screen, album covers displayed in My Music, and improved speed and performance.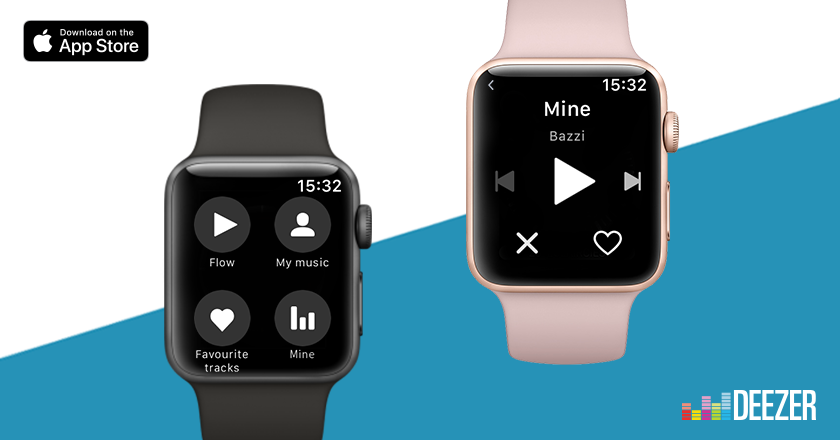 Go to
Features
Control your music from your wrist
Start Flow and your Favorites with just a touch
Shuffle all the music on your Deezer library
Add tracks to your Favorites
Use Force Touch to repeat and shuffle songs
What you need to use Deezer on Apple Watch
You can use Deezer on Apple Watch with Deezer Free (limitations apply) or one of our subscription plans, such as Deezer Premium
Latest version of Deezer for iOS
iOS 10 on iPhone 5s or above
Bluetooth enabled and iPhone paired to Apple Watch
Be logged into your Deezer account on your iPhone
Country and language availability
Deezer on Apple Watch is available in the following languages: English, Arabic, Croatian, Czech, Danish, Dutch, Finnish, French, German, Hebrew, Hungarian, Italian, Japanese, Malay, Norwegian Bokmål, Polish, Portuguese, Romanian, Russian, Slovak, Spanish, Swedish, Thai, Turkish, and Ukrainian.
Deezer is currently available in 182 countries. Read more about changing your language settings here.
Getting started
Deezer on Apple Watch is an extension app and requires pairing with a compatible iPhone.
If you haven't already done so, set up your Apple Watch and pair it with your iPhone (Note: you can pair several watches to one iPhone. If you have multiple watches, be sure you've found and paired the correct watch.)
Download the latest version of the Deezer app for iOS
On your iPhone, open the Apple Watch app and tap the My Watch tab. Apps that you can install appear in the Available Apps section
Scroll to the Deezer app and tap Install
Make sure the slider is green on Show App on Apple Watch 
How to use Deezer on Apple Watch
Deezer on Apple Watch allows you to control the music on your iPhone with your watch, including your recently played tracks, Favorites, albums, and podcasts.
You cannot download music onto your Apple Watch with Deezer. Downloaded music will remain in your Deezer mobile app.
To navigate and select options, you can use the Apple Watch's touchscreen or its Digital Crown.
Browsing music
Open the Deezer app on your Apple Watch.
From the app homepage, you can access the following:
My Music
Favorite tracks
Now playing (new feature)
From the My Music menu, you can access your Recently played, Favorite tracks, Playlists, Albums, and Podcasts.
When browsing playlists, they are ordered with the most recently updated playlists at the top. Songs in your playlists are sorted according to how you have sorted them on Deezer.com – for instance, in manual order, A-Z, or by recently added songs.
Playback
To begin music playback, choose a playlist or album and tap on a song to begin.
From the Now playing screen, you can Pause/Play the track, and select the arrow icons to skip to the next track or previous track.
You can add tracks to your library with the Add/Add to favorites 

button. You can also press the Dislike 

button to skip tracks and help Flow understand your music taste better.
You can adjust the volume level using the Apple Watch's Digital Crown.
Shuffle songs
To shuffle all the songs in your music library, go to My Music and tap the Shuffle button at the very top of the page.
You can shuffle just the songs in a playlist, too. First select the playlist you desire, swipe down and select the Shuffle icon to begin playing the playlist in shuffle mode.
Deezer on Apple Watch FAQ
Do you need a paid subscription to use Deezer on Apple Watch?
Deezer on Apple Watch is available to all Deezer users. If you're a Deezer Free user, the limitations on mobile listening will apply.
Is this a standalone app for Apple Watch?
No. Deezer on Apple Watch is an extension app and requires pairing with an iPhone via Bluetooth.
Can you download music to Apple Watch with the Deezer app?
No. The Deezer app on Apple Watch allows you to control the music playing from your iPhone. You cannot download music to, or stream music from, your Apple Watch using Deezer.
Are there still Force Touch features on Deezer's Apple Watch app?
Yes. Force Touch can be used for Repeat and Shuffle features.
Does Deezer Family work with Deezer on Apple Watch?
Deezer Family is accessible on Apple Watch. Every member of you family can own an Apple Watch and connect their iPhone.
You cannot switch Deezer Family profiles using Apple Watch. You'll need to do so from your iPhone.
Need more help with your Apple Watch?
For more information on using Apple Watch, visit Apple Support.