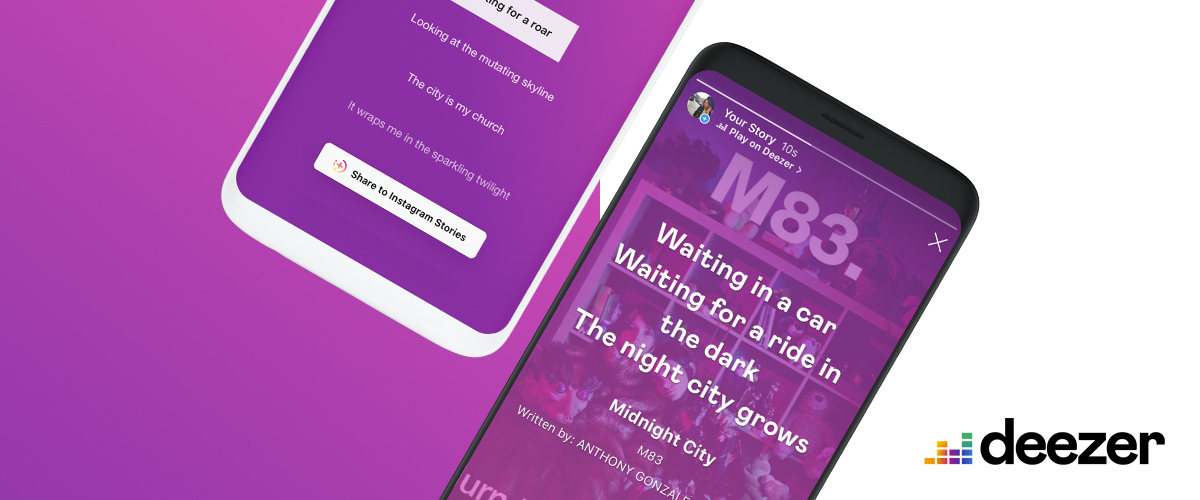 With Deezer, you can play songs with lyrics. Our tool also allows mobile users to share lyrics to Instagram Stories. In the sections below, we outline compatible devices, how to play music with lyrics and how to share your favorite songs' lyrics to Instagram Stories with your mobile device.
Compatible devices
The lyrics tool allows users to play music with lyrics on the following devices.
- iOS* & Android mobile devices
-Desktop devices*
- Compatible only with select TV models
*Deezer Free users need the latest version of Deezer desktop app (4.20)
How to play music with lyrics on Deezer mobile app
Select the three dots button next to any content displaying the microphone icon displayed next to a track. Note: This button will appear vertically on Android mobile devices.
Select Play with Lyrics to listen to the song with lyrics
Users also have the option to press the Lyrics badge on the bottom right of the track cover on both Android and iOS devices to view and play lyrics
On your computer
You play lyrics on deezer.com or the Deezer desktop app by selecting the the microphone icon

on the player or next to any song that displays the icon.
Can I display lyrics while casting on my TV?
Yes, Deezer Free and Deezer paid subscribers can now enjoy lyrics on their TV, using Chromecast or Chromecast built-in devices. Lyrics will automatically display when they are available on the latest version of the app:
iOS: 8.6.0.4

Android: 6.1.20.58
Sharing to Instagram Stories and Snapchat
Sharing your favorite songs is easy. This tool is available with iOS 8.3.0 or Android 6.1.16 update. Before you share, you'll also need to allow permissions from Deezer.
Select the three dots button on iOS devices (it will appear vertically on Android devices)
Select Share
Select Instagram Stories or Snapchat
Note: Snapchat sharing feature is only available on iOS 13
How to share Lyrics to Instagram Stories and Snapchat
You can also select Lyrics to play with lyrics
Scroll down and select Instagram Stories or Snapchat
Select the lyrics you would like to share
Select Share
Customize the image
Select the button Send to for individual followers*
Select Share and Done
*For Instagram, you have the option to share to Close Friends

or directly to your Instagram Story
"How do I tell you if the lyrics are wrong?"
Get in touch with us, using our webform, and we'll fix it as soon as we can.
"Why aren't lyrics available in my country?"
Your country determines what's available due to different agreements. If lyrics aren't available, understand we are trying our best to get them to you. The language that the song is written and performed in will be the same regardless of what country you're listening in.
"What if I click on 'Play on Deezer' but don't have the Deezer app?"
You'll be able to see the album or track and be redirected to the store page to download the Deezer app, which you'll need to listen to the track.
"Does the share feature work on Instagram feed as well?"
No, you can only share content and lyrics on your Instagram Stories.