The music you listen to and the selections you make help Flow to serve your ears with better recommendations.
Flow is your personalised soundtrack. The songs and recommendations in Flow – and the new Flow tab – are chosen by:
What music you listen to from the Deezer catalog
What music you tell us that you love or dislike
And the genre and artist choices you made when you first signed up to Deezer
Improve Flow by telling us what you love
By telling us what tracks, albums and artists you love or dislike, Flow can make better recommendations to suit your music taste.
You can tell Deezer what you like using the Add/Add to favorites button. You'll see it beside every track, album, artist, and playlist.
Whenever you press the Add/Add to favorites button, that content is added to your Favorites list in My Music.
The simplest way to improve your Flow is by adding more content to your Favorites. Whether it's an album, an artist, or a track – Flow absorbs it all.
If you need more guidance, check out our Favorite basics for the step-by-step process.
Explore the Flow tab and improve Flow
We created the Flow tab specifically to recommend more music that you'll enjoy.
In the Flow tab, you will find personalised playlists, inspired by your favorite artists and new music specially tailored to your music taste. By adding songs and artists from Flow playlists to your Favorites, your Flow will become even better at serving your music needs.
Read more about the Flow tab here.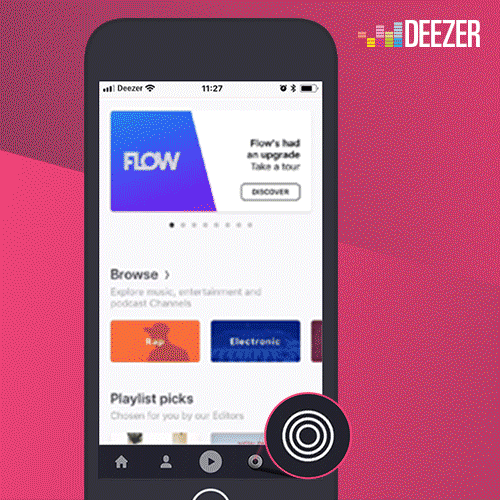 How do you add an artist to My Music from Flow?
Heard something you like while listening to Flow? Want some more of the artist? Add them to your Favorites and let Flow know you love them.
On mobile
Click on the playing song
Click on the More button
Tap Artist page
In the top right, click Add to favorites
On Deezer.com
Look to the bottom left-hand corner for the current song and its artist
Click on the Artist's name
On the artist page, click Add
Remove a song or artist from Flow
If your Flow plays something you don't like you tell it to skip the song.
Just tap the Dislike button and, that song will not be replayed for the next 24 hours. If you press Dislike for a song or artist three times, Flow will not play it again.
If you're using Deezer Free, the Dislike button counts as a skip.
You can make sure Flow doesn't include a track or artist by making sure you uncheck the Add/Add to favorites button for that song or artist. See the Artist FAQ for more.
In the Flow tab, Flow playlists do not feature the Dislike button.
Flow is playing the same songs over and over. Why?
If you've only just started using Deezer, Flow only knows what you picked when you signed up. So, it might not get it right all the time.
First, try adding more songs and artists to your Favorites. And why not give a playlist from the new Flow tab a try?
If that doesn't work, try deleting your cache. (Note: this will delete your downloads.)