Loving the music you've heard in a store or on a night out, but don't know what it is? Never miss out on a song that's caught your ear with SongCatcher from Deezer.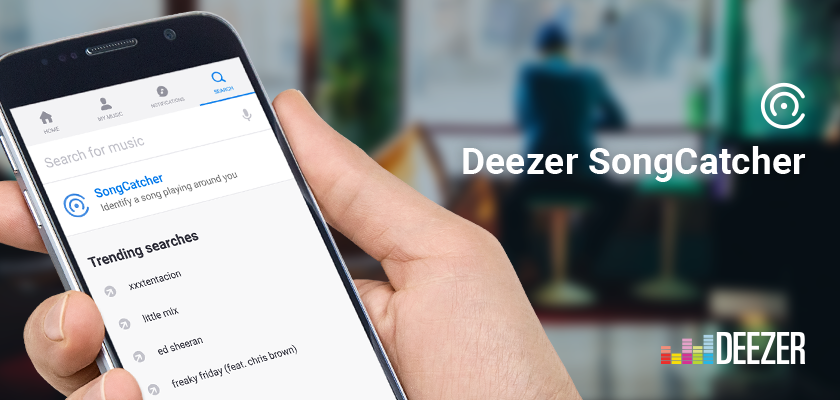 Features
SongCatcher listens to music playing around you and identifies it
Add songs straight to your Deezer favorites or a playlist
Share your new music discoveries with other Deezer users
How to use SongCatcher
When you hear a song you'd like to identify, follow these steps to find and use the SongCatcher feature in the Deezer app.
Open the Deezer app on your smartphone
Tap the Search screen.
Tap the SongCatcher button, positioned just below the Search bar
SongCatcher will begin listening to the song to identify it and will display its results shortly
When it's successful, it will display the song name and artist to you. You will also have the option to add the song directly to My Music or one of your playlists
For more help using SongCatcher, see our FAQ section below.
SongCatcher FAQ
What is SongCatcher?
SongCatcher is Deezer's track identification feature. It allows you to identify music that's playing around you right from within the Deezer app. It will tell you the name of a song, who it's by, and give you the option to add it straight to your Favorites or a playlist.
What do you need to use SongCatcher?
You'll need the latest version of the Deezer mobile app for Android (running Android 6.0+ and Deezer 5.4.12+).
This feature is not yet available for iOS users.
Is SongCatcher available to all Deezer users?
SongCatcher is available to all Deezer users – free and paid subscribers.
What happens if SongCatcher can't identify a song?
If SongCatcher is unable to identify a song it will display one of the following error messages:
SongCatcher can't find your track. Can you try again?
Hmm, it looks like you're offline
If you are offline at the time, SongCatcher will give you the option to try again. At this time, it is not possible to temporarily store sound clips to be identified when your phone is next online.
Sometimes SongCatcher may identify a song, but be unable to match it to Deezer's catalog. In these cases, it will display the title of the song, the name of the artist, and a list of search results according to what the app heard.
If the service fails to recognise the song completely, it could be for a few reasons: the environment you're in may be too noisy, your device may be too far away from the music source, or the song may not be in the Deezer catalog.
Where can you find your SongCatcher history?
At this time, you must save songs you capture to your Favorites or a playlist in order to return to them.
Can SongCatcher recognise a track if you sing it? How about if you hum it?
SongCatcher works by matching tracks to existing music in our database. Our development team is working on technology to identify songs by singing or humming. When we have more, you'll know about it.