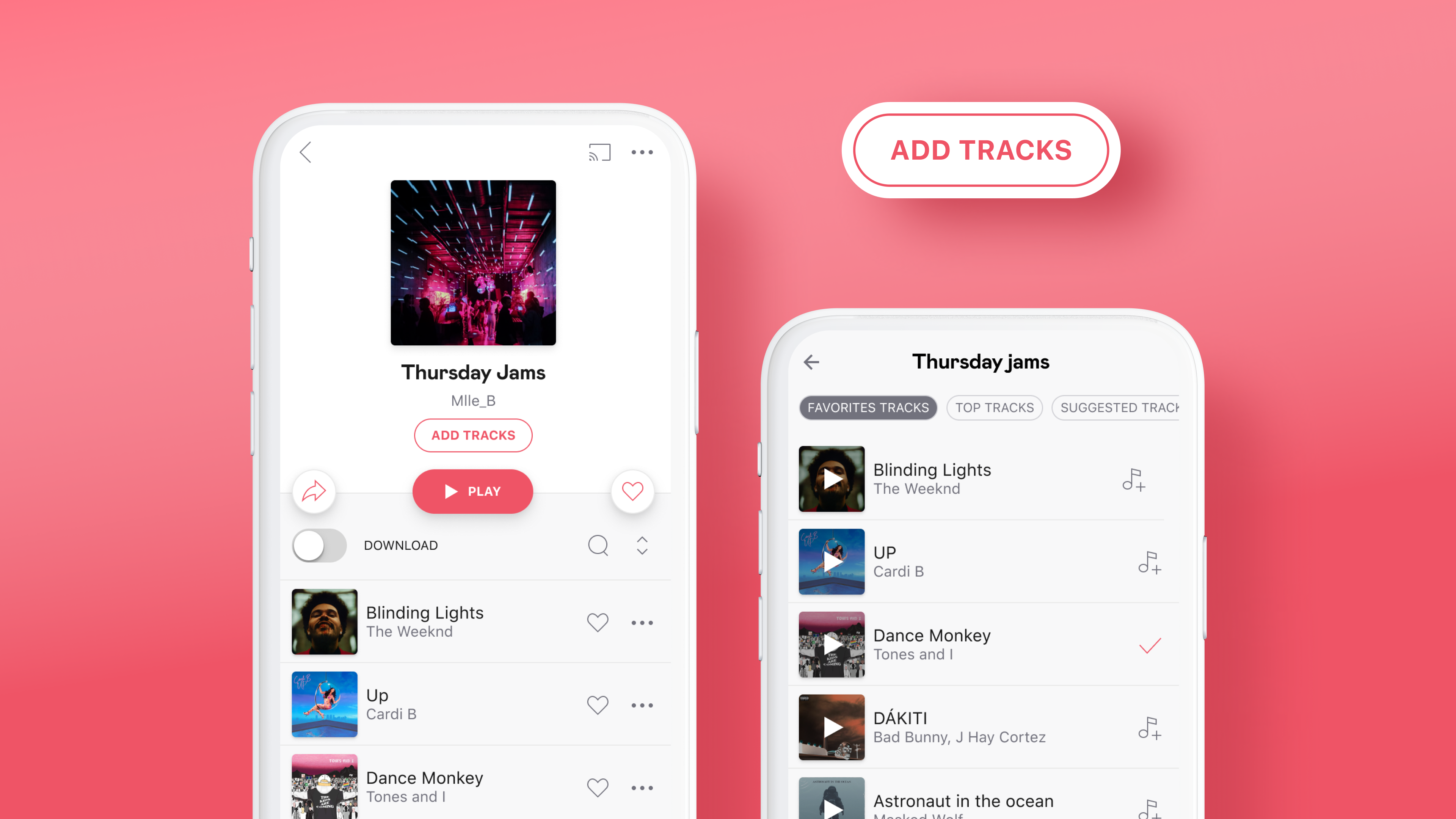 When making or editing a playlist, you can use Deezer's Playlist assistant to view your Suggested tracks, Favorite Tracks, Top Tracks and Playlists to add to your private and collaborative playlists. Deezer's playlist creator allows you to find all your favorite and recommended content in one place.
Availability
Playlist assistant is available for Deezer Free users and paid subscribers on mobile. The minimum version required for your Deezer mobile app is 6.2.22 on Android or 8.34 on iOS.
How to create a playlist using Deezer's Playlist assistant
On mobile
Go to Favorites tab
Select Playlists under Music
Choose an existing playlist or create a playlist
Select Add tracks for a new playlist or Add tracks for an existing playlist
Use the sources* displayed to view tracks from your personal recommendations, such as:

Suggested tracks
Favorite Tracks: last 100 tracks you've added to your Favorites
Top Tracks: 100 most listened tracks based on your recent listening history
Playlists: playlists you've created and recently updated or launched

Next, select the Add tracks icon* to add a new track (tap the track to hear a 30-second preview**)
A check will appear next to tracks added to your playlist
Note: If you would like to remove a track, simply tap the check

*Some sources may not be displayed, depending on your listening history. If you would like more sources to appear, try these tips
**The 30-second preview is not available for US-based users
How do I remove tracks from my Deezer playlist?
Tracks are automatically saved to your playlist when you select content. Simply unselect the checkmark

to remove tracks from your playlist.
Can I use Playlist assistant for new playlists?
Yes, you can access Deezer's playlist maker when you create a new playlist or edit an existing playlist.
Where can Playlist assistant be used?
Playlist assistant can be used on any playlist that you've created or on Collaborative

playlists.
Why don't I see some music sources on Deezer's Playlist assistant?
Deezer's playlist creator uses sources, such as your Favorite Tracks, Top Tracks and Suggested tracks from your recent listening history and recommendations. If you don't have enough listening history or Favorite Tracks, Playlist assistant will not display all the music sources.