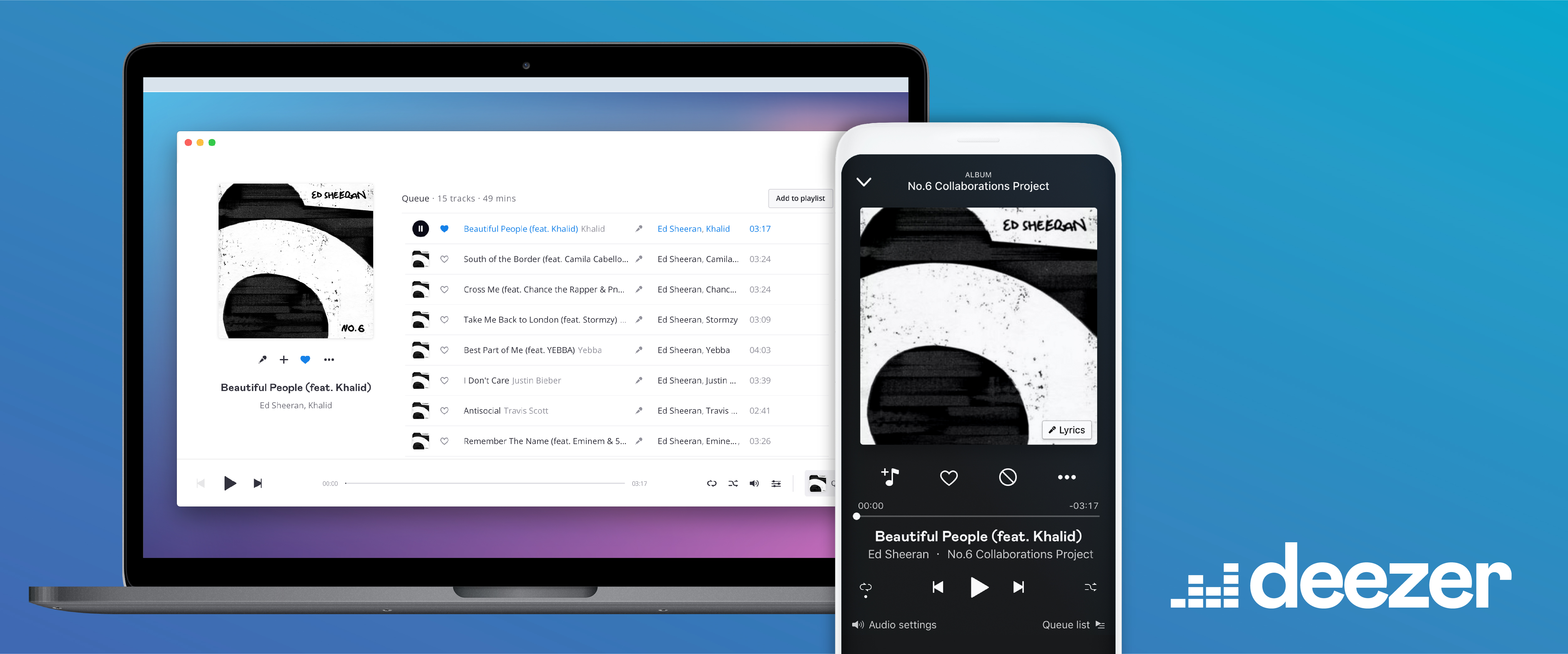 Your queue list is now stored on the cloud, making it easier to enjoy non-stop music across all your connected devices. Now you can switch between mobile, tablet or desktop without losing track of your music and other content.
How does cloud-based queue list work?
The cloud-based queue list improves your cross-device listening experience by ensuring all your content is stored in the cloud as opposed to locally on just one device. All your repeat, shuffle and other audio preferences will also be synced.
Below, we explain how paid subscribers can add, arrange and remove songs from their queue list.
Requirements
iOS version 7.7.0 or higher and Android version 6.0.6.60. This feature is not available on Windows.
Note: The cloud-based queue list feature is not available to Deezer Free users
Other compatible devices
Apple CarPlay
Android Auto
Apple Watch
Wear OS by Google
Android TV
Xbox
Note: Devices not listed may not be fully supported, but rest assured we're working on rolling out this feature to all devices and third-party apps
Synchronizing your queue
The Synchronized queue-list feature now gives you more control over your playlists on any connected device. This feature is on by default - to disable this feature on mobile:
Go to Settings (displayed on the top-right corner on any of your Deezer tabs)
Select Audio
Tap the slider to turn Synchronized Queue-list feature off
Note: Desktop and web player users can access Audio settings from the bottom right corner and use the slider to turn the feature on or off
Other content such as podcasts and audiobooks will not be synced when you switch devices
How to add to queue list on mobile
To add a track to your queue list:
Select the Options three-button menu next to any track. Note: On Android devices, the three-button menu will appear vertically
Select Add to queue to add a track to the end of your queue list, or select Play next to hear this track after your current song
To view the songs you've added, simply tap the Queue list button on the bottom right corner of the music player
Removing from queue list on mobile
To remove a song from your queue list on iOS:
Place your thumb next to the hamburger button and swipe right in a sliding motion
A Delete option will appear
Swipe all the way right to complete the action
Note: On Android devices, you can hold your thumb on the album cover and select Remove from queue from the Options menu
Arranging your queue list
Place your thumb on the hamburger button and hold down
Carefully slide your thumb up or down to move a track in your queue list
Adding from queue list on web and desktop
To add or remove songs on your queue list while using the web player or desktop app:
Select Queue located in the bottom right corner of the screen
Tap the Options three-button menu that appears next to any track
Select Add to queue or Listen next
Removing from queue list on web and desktop
To remove a track repeat steps 1-3
Hover over any track and select the X to Remove from queue
Note: Changing the order of your tracks from the web player and desktop app is currently unavailable