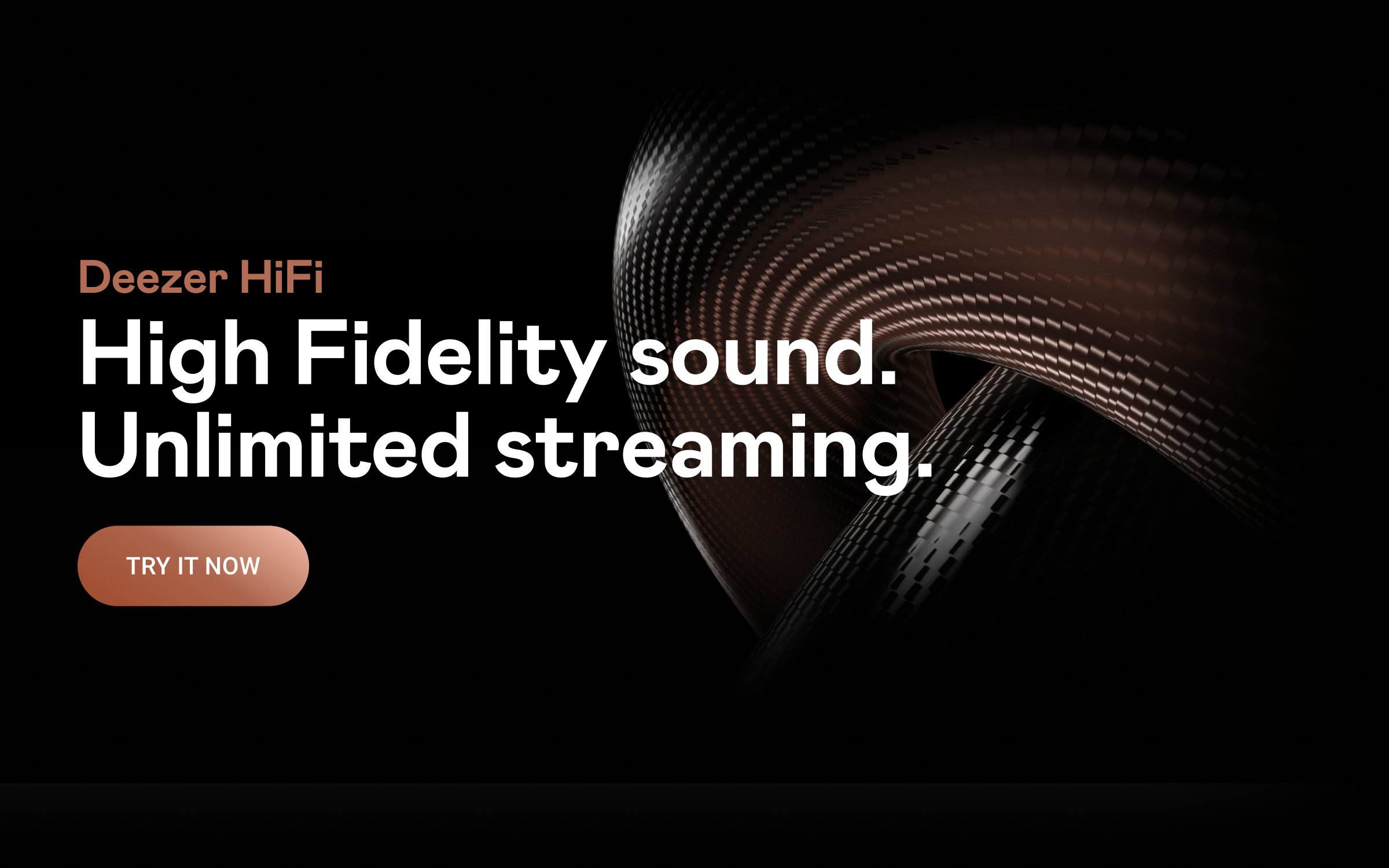 Enjoy music in CD-quality with Deezer HiFi. Get all the perks of a Deezer Premium subscription with the bonus of exceptional Free Lossless Audio Codec (FLAC) sound on over 70 million songs.
Audio is encoded with 16-Bit/44.1 kHz FLAC to deliver the very best listening experience.
Note: Deezer HiFi subscribers can contact us on a dedicated Deezer Support email hifisupport@deezer.com
Requirements
To get started, you'll need a Deezer HiFi subscription and an adequate broadband internet connection. Deezer HiFi requires a minimum broadband speed of 5 Mb/s to enjoy FLAC streaming. The higher your broadband speed, the more FLAC streams you can play:
5.0 Mb/s - 1 FLAC stream
7.5 Mb/s - 2 FLAC streams
10 Mb/s - 3 or more FLAC streams
Compatible devices
Select devices may have a built-in app. Look for the Deezer HiFi icon

on our devices page to see what models are supported.
Deezer HiFi users can now stream FLAC quality not only on Desktop App, but also on Web Player, iOS, Xbox and Android mobile devices.
Version iOS 8.1.0 and Android 6.1.14 is required to listen to FLAC quality on the go. Users can set up their High Fidelity settings as well as FLAC download settings in:
Settings

> Audio

> Custom
Try it for free
Enjoy Deezer HiFi for FREE when you create an account or upgrade from your current subscription.
If you don't have an account with us, you can sign up here
Log in to Deezer
Go to the Deezer HiFi page here. Select "Try it free for 30 days"
Follow the steps to enter your payment details
Confirm and your Deezer HiFi subscription will begin
Using Chromecast
Deezer HiFi is compatible with most Chromecast units produced after 2015. To start streaming in high fidelity, all you have to do is select the Chromecast

button.
See Google Support for help.
Using Google Assistant
Deezer HiFi subscribers can experience high fidelity audio with Google Assistant on Google Nest Audio speakers in the following countries:
Australia
Canada (FR)
France
Germany
Italy
Mexico
Spain
UK
USA
HiFi Classics
HiFi Room
The HiFi Room channel is visible to HiFi subscribers. It's a dedicated channel with curated FLAC content for you to explore and enjoy with compatible devices and speakers. You can find the HiFi playlists > at the top of the Music

section of your Deezer app or on the Music section of your Deezer desktop app or deezer.com.
Perfect Record Collection: a series of sub-channels that lead to top albums of the decades
Reissues: iconic albums remastered for HiFi
"What happens when I upgrade to Deezer HiFi?"
Deezer HiFi will replace your current subscription and you will be charged the new subscription fee immediately. You do not need to create a second account. All your playlists, albums and downloaded content will still be available.
Note: If you are currently subscribed through Google Play, iTunes or a mobile provider, you'll need to cancel your subscription through your provider. You can then re-subscribe to Deezer HiFi through Deezer.com or the Deezer app.
"What if I don't have one of your supported devices?"
While it's recommended that you use Deezer's list of compatible devices, you can use another device as long as you have the necessary software, i.e. our desktop app.