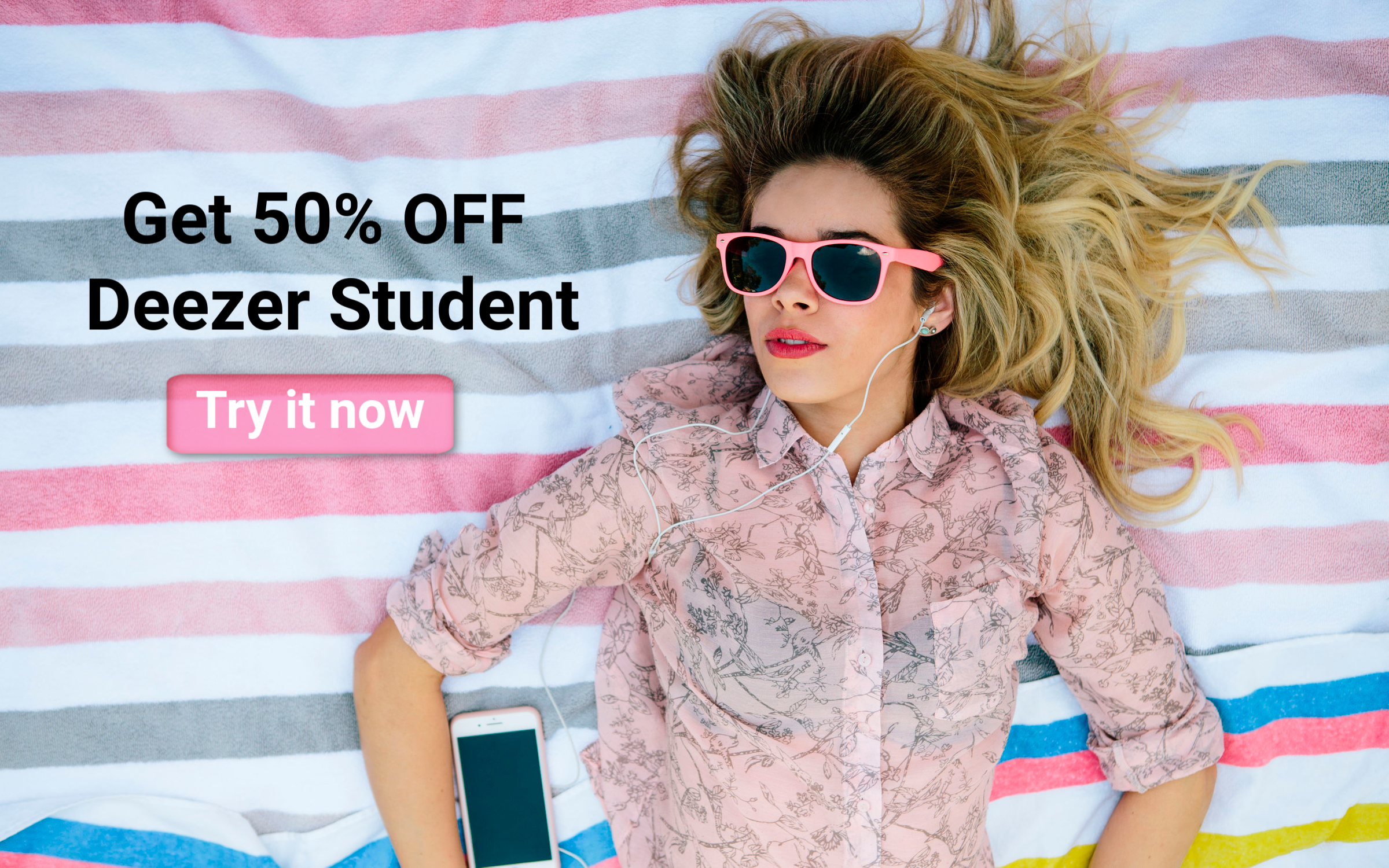 There's more to Deezer than just a free and seamless experience. With Deezer Student, you can enjoy ad-free unlimited music in high quality at half the price. Take your favorite music and podcasts everywhere with offline listening mode, perfect for global students on the go.
Requirements
To qualify for Deezer Student, you must be:
Enrolled at a college or university in an eligible country (this also applies to study abroad students)
Aged between 18 and 25 years old
Based in: Argentina, Australia, Austria, Belgium, Brazil, Bulgaria, Canada, Chile, Colombia, Denmark, France, Germany, Hungary, Indonesia, Israel, Italy, Malaysia, Mexico, Netherlands, Philippines, Poland, Russia, Singapore, South Africa, Spain, Sweden, Switzerland, Thailand, the United Kingdom or the United States
No other promotions or discounts may be applied in conjunction with this offer, including gift cards.
Sign up to Deezer Student
Visit the Deezer Student page
Enter your details to create an account
To verify that you are a student, you will be referred to our partner, SheerID
Enter your college/university details and connect to your university online services for verification
Alternatively, you may be asked to provide your full name, the name of your college/university and one of the following documents: a school certificate, a student ID card scan, a transcript or a registration/tuition receipt
Once you have submitted your details and documents, we will review your registration and send you an email in a few days. Remember to check your junk/spam folder, if you do not receive it.
*If your verification process fails, you will be automatically subscribed to Deezer Premium.
Switching to Deezer Student
If you are a paid subscriber of Deezer Premium or any of our other subscriptions, you can switch as long as you meet the eligibility requirements. To switch, you must first cancel your subscription. Then, re-subscribe for Deezer Student. We will review your registration once SheerID has processed your documents.
Adding your university
If your college or university is not listed on SheerID's system, you can submit a request for your place of study to be added, provided you are studying in one of our eligible countries. It takes a minimum of 30 days for requests to be reviewed. Learn more about SheerID verification process.
How to resubscribe to Deezer Student
When your subscription is six weeks away from expiring, you will be sent an email reminding you to re-verify your student status. Simply repeat the verification process with SheerID. Please ensure your payment method is up-to-date*.
Qualifying students can renew their account up to three times, a total of four years.
*Any changes to payments must be made at least 48 hours before you resubscribe. If a payment method is not successfully updated or a payment fails within this period, the subscription will revert back to the full price of the offer.

Having problems subscribing?
If you are having problems subscribing, please check that you have not exceeded the renewal limit for Deezer Student and that you meet all the requirements, including age and country.

"Can I transfer my student discount to another account or subscription?"
No. Qualifying students may register only one account with a Deezer Student subscription at a time. The discount period lasts for the full 12 months from your start date.
"I'm over 25 years old and I'm a student. Why is this offer closed to me?"
Our student discount is open to students aged 18 to 25 in select countries. Deezer understands that many people continue studying beyond this age bracket, but, in accordance with our licensing conditions, we are not able to extend this offer at this time.
"Is Deezer HiFi available for students?"
No, Deezer HiFi is not available at this time to students. However, it's always worth checking our latest offers.