Flow is your personalised soundtrack: recommending current songs, new releases and your old favorites, all blended together in one infinite stream just for you. All you have to do is press play.
We recently enhanced Flow to help make it easier for you to get the most out of it. Below, we'll tell you wants new and how to use it.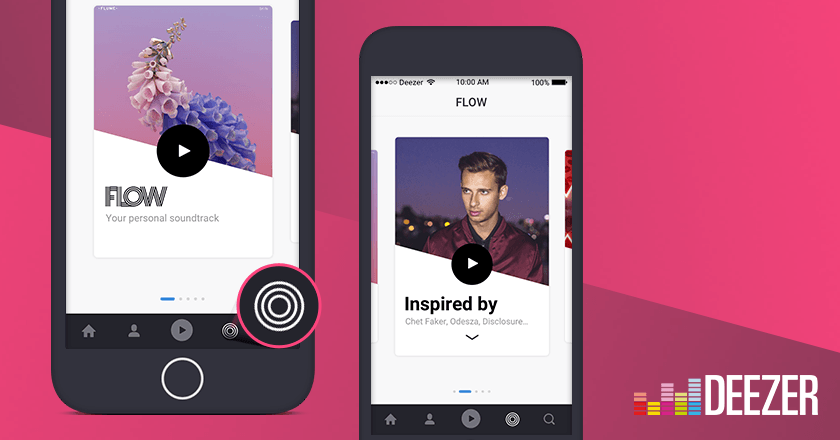 How does Flow work?
Flow brings you custom playlists and recommendations based on your music taste.
The songs and recommendations in Flow – and the new Flow tab – are chosen by:
What music you listen to from the Deezer catalog
What music you tell us that you love or dislike
And the genre and artist choices you made when you first signed up to Deezer
You can tell Flow what you like with the Add/Add to favorites 

button. You'll see it beside every track, album, artist, and playlist. The more you listen and use the Add/Add to favorites 

button, the better Flow gets.
Read more about how to improve Flow's recommendations and suggestions for you.
What is the Flow tab?
The Flow tab is a new personalized home for Flow and other recommendations, based on what you listen to. We created it to give you more control of the music you discover, and the chance to find even more music, through Flow.
On mobile, you will find the Flow tab 

on the bottom menu.
On desktop and the web, you will find Flow on the Deezer homepage in the main carousel.
Flow playlists
As part of the new and improved Flow, you can choose from a selection of playlists to suit your mood.
These playlists include:
Inspired by: hear music by artists you love and new ones we think you'll adore, based on your favorites. We'll bring you three to five Inspired by playlists daily, and each one corresponds to a genre (e.g. Hip-Hop, Rock, House, etc.)
Discover: we bring you new music you haven't heard before that we think you'll love
Your top tracks: Discover your top 40 tracks of the year
On the Flow tab, the first playlist card is your main Flow. Swipe left to see your Flow playlists, each one unique to you.
Inspired by playlists are updated every day with 40 recommended tracks. The Discover playlist is updated every Tuesday with 40 new tracks.
Paying subscribers can access tracklists, skip tracks, and add songs to their queue. If you are a Deezer Free user, all Flow playlists are only available in Shuffle Mode.
Flow playlists are available on mobile, desktop app and the web.
Flow FAQ
Can you save the songs in your Flow playlists?
To save the current song playing from a Flow playlist, tap the Add to playlist 

button and select the playlist you wish to add it to. The song will now appear in your My Music library, and it will influence your Flow.
To save all the songs in a Flow playlist to your library, tap the down arrow at the base of the Flow playlist's card to bring up its tracklist. Then, swipe up to scroll all the way to the bottom of the playlist. There you will see the Add to playlist button. Tap and create a new playlist or add the songs to an existing playlist.
Can you play Flow offline?
At this time, it is not possible to play Flow or Flow playlists offline.
If you want to play content from Flow offline, try adding songs to one of your own playlists and downloading that playlist to your device (paying users only).
Why have you made changes to Flow? Where is my regular Flow?
At Deezer, we want to give you the best listening experience possible. Our customers told us they love Flow, but they also told us we needed to make it better. So, that's what we've done with Flow tab. We've given you more ways to enjoy Flow, and ways to make it even more personal, which we believe will make your Deezer experience better.
You can still access your regular Flow from the first playlist card on the Flow tab

, and the homepage on the desktop app and deezer.com.
You're a Deezer Family subscriber: can other profiles mess with Flow?
Every Deezer Family profile has a separate, independent Flow.
Just remember to always check that you are connected to your own profile before playing music to avoid influencing your family members' Flow. 
Where are notifications?
You will be able to access your notifications by going to the My Music tab 

and tapping the notifications icon.
More about Flow
Read more about how to improve Flow's recommendations and suggestions for you.