Deezer's Home tab is a personalized space with plenty of highlights and popular releases to keep you inspired. Enjoy a dynamic listening experience perfectly adapted to the moods and moments of your day. Deezer's Flow and smart playlists are updated on a daily basis to reflect your listening tastes.
---
Requirements
You'll need an Android mobile or tablet that is running Android 6.1.15 or above or an iOS mobile or tablet running iOS 7.19 or above.
Note: If you are a Deezer Free user, you'll be unable to download songs from playlists. Kid profiles will not have access to some playlists due to age restrictions
---
Flow - Your personal soundtrack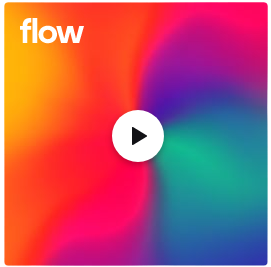 Once you have favorited 16 tracks and/or artists, Flow will appear on your homepage; it's all your favorite music, mixed with fresh recommendations and songs you forgot you loved. This feature uses an algorithm to get to know what you like and what you don't like and plays an infinite stream of music chosen just for you. The more music you listen to, the better the recommendations will be. All you have to do is press the Flow button.
Flow:
Is available to all users, including Deezer Free subscribers
Is located in the Home tab

 of your app and 

deezer.com
Is infinite!
Allows you to choose a Mood, which creates an infinite playlist based on that mood. For example, Chill or Motivation. Just open Flow, select the Moods button and choose between You & Me (Romantic), Motivation, Chill, Melancholy, Focus, and Party
Tip: You can learn how to improve your Flow and use Flow's moods here
---
Launch a Mix inspired by a song you love
Launching a mix inspired by a track you love is the perfect way to discover new artists and songs that you've probably never listened to; step out of your comfort zone and discover a new musical horizon! When you launch a mix inspired by any track, we ensure that the next song will have a similar style and feel, but we also make sure most of these songs are brand new to you!
Directly from the Home tab, in the Mixes inspired by section, we will regularly suggest mixes inspired by the tracks you've recently been streaming; it's essentially a gateway to new discoveries!
Tip: You can learn all about these mixes and how to launch them here
---
Deezer smart playlists
Deezer's smart playlists are located in the Home tab of the Deezer app or the homepage of your desktop app. Each smart playlist contains 40 songs to keep you inspired throughout your week. There are a number of different smart playlists to choose from, including Daily, Discovery, New releases, Your month in music and Family mix. They can be found in the Made for you section of the Home tab.
Note: The playlists that appear will be unique because they are curated to your taste. They are updated weekly apart from Daily and Family mix playlists, which are updated daily, and Your month in music, which is updated monthly
Jump to the top and click the FAQs tab to view our mostly frequently asked questions about this topic
−
Yes you can!
To save the current song playing from a smart playlist, select the Add to playlist option located on the three dots menu 
button. Next, select the playlist you want to add it to. The song will now appear in your Favorites 

section (in the playlist you chose), and it will influence your Flow and smart playlists.
Tip: Simply select the heart

to save the song directly to your favorite tracks
To save all the songs in a Deezer smart playlist to your library, tap on the cover of the playlist to bring up its track list. Select Add to playlist and create a new playlist or add songs to an existing playlist.