Warning: 360 by Deezer will no longer be supported from 31/10/2022. If you subscribed via the 360 by Deezer offer that is available with Sony products, you will still have access to the main Deezer app, where there are millions of tracks available in standard formats. For more information about the Deezer Premium experience, visit here. Meanwhile, for further information about 360 Reality Audio, visit here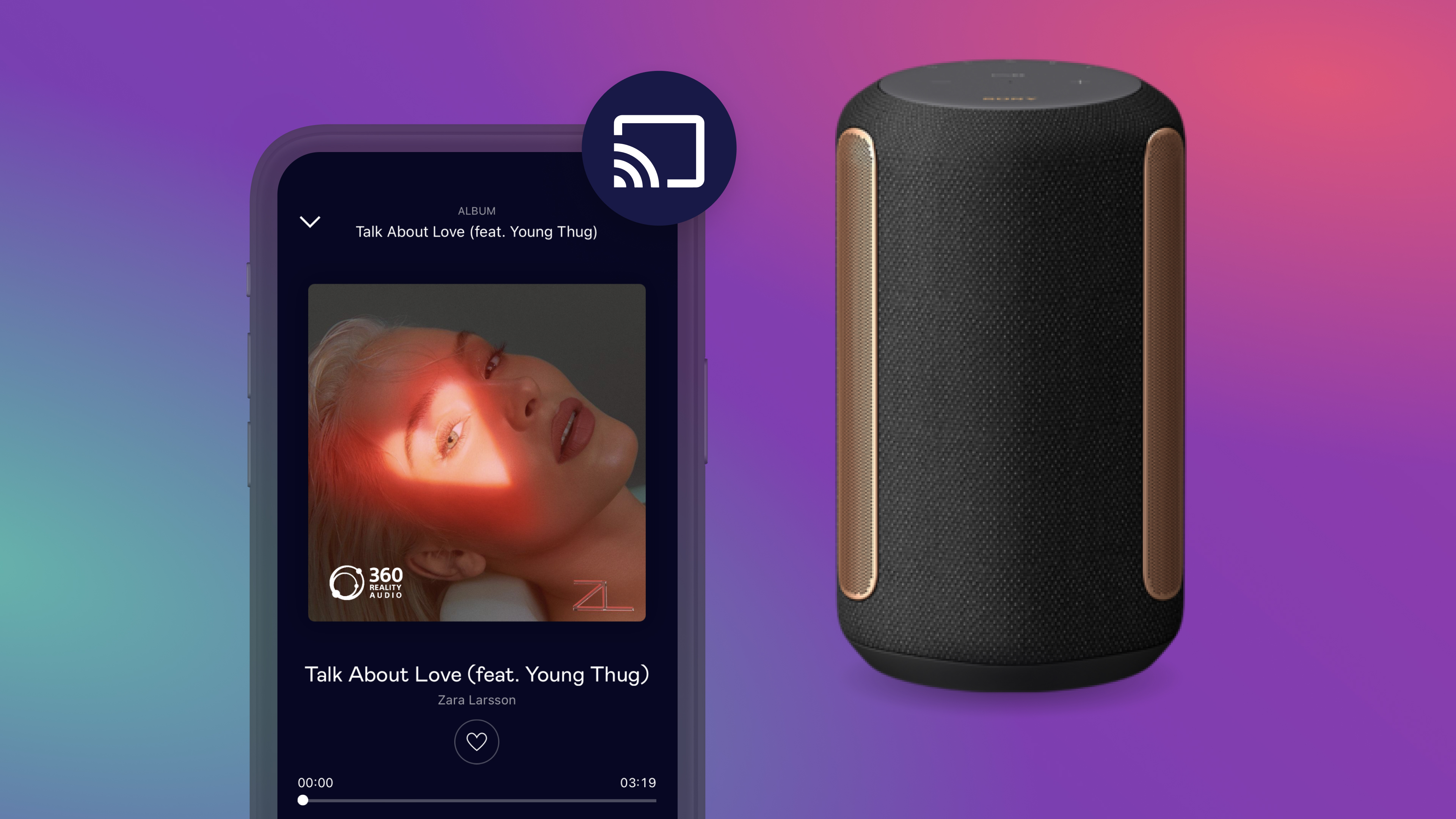 360 by Deezer is our app dedicated to Deezer users that allows you to hear songs recorded in 360 Reality Audio.
360 Reality Audio maximizes the spatial sound field by creating multiple virtual speakers and converting instruments into independent objects that can be placed in different positions to create a truly immersive experience for listeners.
You'll also be able to cast content from the Deezer 360 app to certain Sony speakers in 360 Reality Audio quality or cast to any device in regular quality.
---
Requirements
iOS version 11 or above
Android version Lollipop or above
Deezer Premium
A 360 Reality Audio compatible device
Note: You are able to use any device with the 360 app, but to experience 360 Reality Audio, specific devices are required
---
Compatible devices
360 Reality Audio can be enjoyed with devices from any manufacturer. However, for a personalized experience, we recommend Sony's range of 360RA optimized headsets and Sony SRS-RA speakers:
| Headphones | Speakers |
| --- | --- |
| WH-1000XM3 | SRS-RA3000 |
| WF-1000XM3 | SRS-RA5000 |
| WI-1000XM2 | |
| WH-XB900N | |
| WH-XB700 | |
| WH-H910N | |
| WF-SP800N | |
Users who've purchased the above models are eligible for a 3-month trial of Deezer, accessible via a voucher.
Warning: Sony gift codes will only be available to use until October 2022
Tip: If you did not receive a voucher code for Deezer, please contact Deezer Support
Note: Sony device availability varies by market. Please visit your local Sony website to check which 360 Reality Audio certified models are available in your country
---
How to add tracks to your library
Select Explore to find inspiration from the latest releases that are available in 360 RA
Select the heart icon
Note: If you like a song, the track will also be liked in your main Deezer app. Users have the option to filter their tracks by 360 Reality Audio file format using the toggle button in their library.
Note: Only Deezer users can access the 360 by Deezer app. All of the tracks you've favorited will automatically sync to your 360 by Deezer app (and vice versa). Some tracks in your library will not be available in 360 RA. The catalogue will continue to grow as more tracks are remasterized by the music labels and added
---
How to cast to a Sony speaker
Play a track
Select the Cast icon located in the top-right corner of your screen on the player

Note: If the Cast icon does not appear, please check that all devices are on the same WiFi

Select the device
Tip: For more information about casting, view our Chromecast article
---
How to use the Sony gift code
Warning: Sony gift codes will only be available to use until October 2022
After you purchase your eligible Sony headphones or speaker, enter your gift code on Sony's website and you'll be redirected to Deezer. With our partnership, eligible Sony headphone users have access to a 3 months free Deezer subscription, which can be canceled at any time. At the end of this period, you'll be charged monthly. To redeem the offer, follow these steps:
Download the 360 by Deezer app
Select your language
Enter your 7 digit alphanumeric access code
Select your country
Search and select Deezer

Tip: Select the Deezer logo to see more info about Deezer plans

Create an account with your login details
Enter your payment details
Note: If you've purchased an eligible model and did not receive a voucher code, please contact our Deezer Support team. A proof of purchase will be necessary to receive a voucher code
---
Jump to the top and click the FAQs tab to view our mostly frequently asked questions about this topic
−
You can set up your headphones with Headphones Connect, Sony's journey to optimize technology and calibrate audio to users' ears.