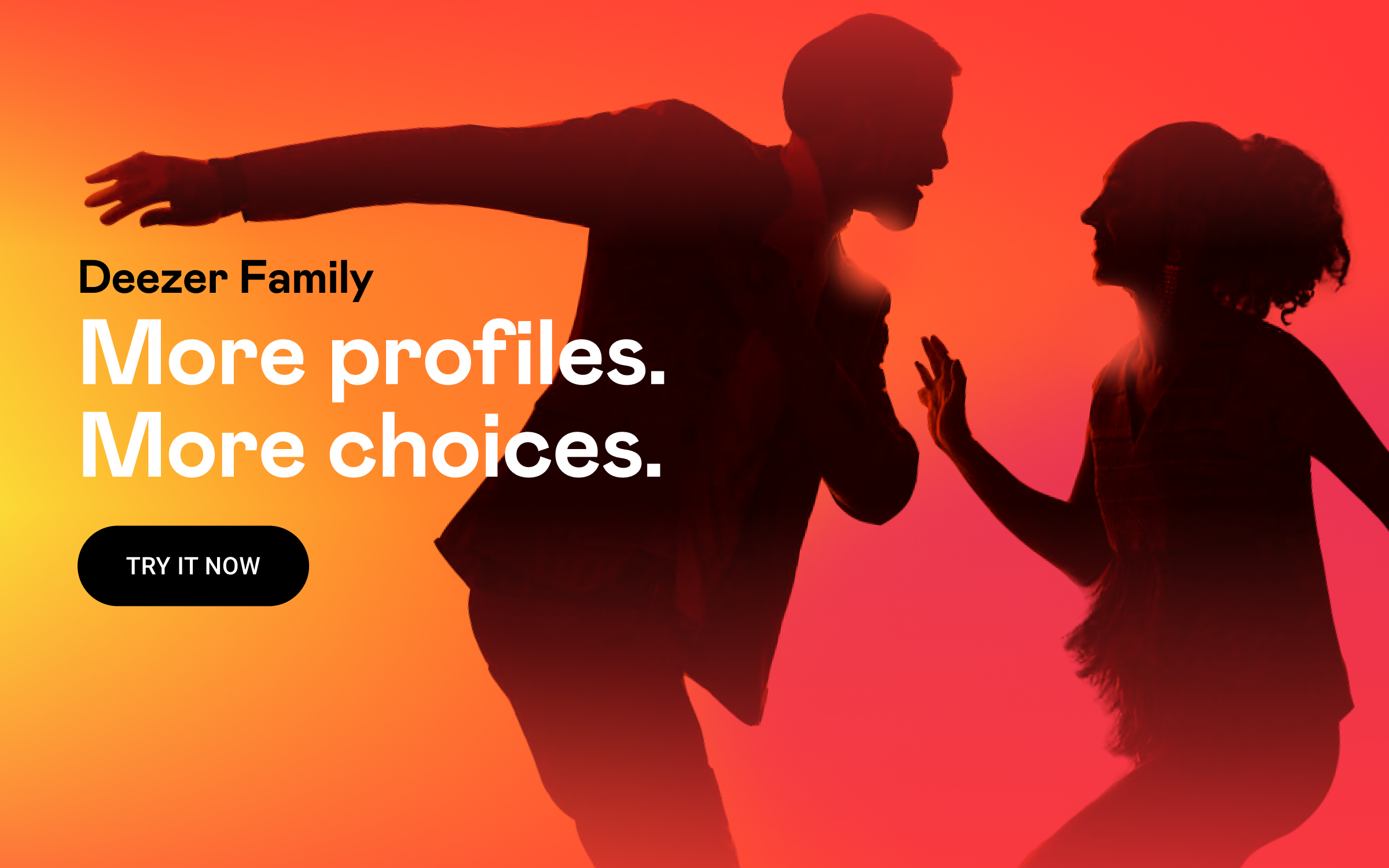 With Deezer Family, you and your family members can listen to ad-free unlimited music in high quality audio. The subscription allows families to create up to six profiles. With the Main account, you can connect up to three devices and with every General profile up to two devices. Families can listen to music simultaneously on up to six devices at the same time.
Please keep in mind the Deezer Family subscription is associated with one password, which all family members have access to in order to log in and open their General profiles.
Helpful links
Learn more about creating, logging in or deleting a Deezer Family profile:
Visit our Deezer Family offer page to subscribe.
Family on voice
Deezer Family subscribers can now link their Main account and General profiles with Amazon Alexa and Google Home voice assistant speakers.
Requirements for Deezer Family
The main account holder must meet the minimum age requirement outlined in our

Terms and Conditions

All users must reside in the same household

Deezer Family is available worldwide for Android, iOS and desktop

If you already have an account and would like to upgrade, all your favorite tracks can be

transferred
Note: It is not possible to combine subscription offers i.e. Deezer HiFi and Deezer Family at the moment
Compatible devices
A wide range of devices are compatible with Deezer Family like Amazon Alexa and Google Home. However, some TVs devices and select models of TVs can only log in to the master account, but not the secondary profiles.
Learn more about connecting and switching Deezer Family profiles with Amazon Alexa and Google Home voice assistant speakers.
How to upgrade to Deezer Family
If you're a Deezer Premium subscriber and you'd like more music for the rest of your family, you can upgrade* from the Manage my subscription menu button under Account settings to upgrade.
You can also upgrade by accessing the profile picture in Deezer desktop app or deezer.com.
*If you are a Deezer Premium subscriber and choose to upgrade to Deezer Family, you will immediately be charged. Your Deezer Family subscription will start immediately and your Deezer Premium subscription will be terminated. Any payment already made during the month of the switch from Deezer Premium to Deezer Family is non-refundable.
Subscribing through iTunes
If you're currently subscribed through iTunes, you'll need to cancel your current offer and resubscribe in order to upgrade.
Note: If you're paying through the Apple App Store, your total charge will be slightly more due to the commission charge
"How many devices can I link?"
Link up to three devices to your Master account and two for each secondary profile. In total, you can link up to 13 devices to your Deezer Family account.
"How do I connect my Deezer account?"
If you are a paid subscriber and you want to connect your current account with a Deezer Family account, you'll need to cancel your account first. The account holder of the Master account will need to create a profile for you under the settings of the Master account. You can only transfer playlists. If you wish to transfer over your entire library, you'll have to raise a request via our webform.
"Why do I get error messages that someone else is listening on another device?"
Please ensure all users access the correct Deezer Family profile to prevent listening error messages from occurring, when music is being played on another device or page. You may also need to reset your password, if you suspect your account or password is not secure.
"What happens if I cancel Deezer Family?"
If you cancel your Deezer Family plan, your account will revert to a Deezer Free account and all linked profiles will be suspended. You won't lose any of the playlists or saved albums on any profile as a result, but the profiles will be inaccessible until you re-subscribe.